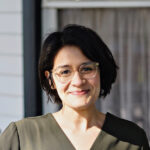 Angeline Miller, MA, LPC-Intern
Therapy for Individual Adults
I offer psychotherapy for individual adults from diverse backgrounds and experiences. For those of you whose pain is layered with systemic injustices and oppression, I feel very passionate about and committed to creating an inclusive space that honors and celebrates your diverse identity/identities while also attending to the ways that living in the world with your unique mind, body, and soul may have extra layers of challenge. I have a lot of energy to work with anyone who wants to deepen their connection to their true self and to meaningful relationships. I feel especially drawn to join individuals who are processing the way childhood experiences or past pain may be impacting their present life.
No matter what you've been through or what you are presently facing, I want to offer you a space where you can feel more comfortable and safe in your own skin. To join you in clarifying your boundaries and living a life that is more aligned with your deepest values. I strive to reflect your inherent worth despite anything that has happened to you or ways that you acted when you were hurting. And, if you allow me, I so want to respect and honor your inner child who survived, and to honor their efforts by walking with you into your innate wisdom and power now as an adult.
About Me
For as long as I can remember, I have always been drawn to deep conversations; the kinds where I get to listen to people being candid with their emotions, challenges, and desires. I find something very comforting about not having to "hide" from who I really am and being around people who don't feel that they have to hide either.
These safe, honest spaces feel sacred to me, because I know how elusive the spark of connection can be. Especially for those of us who have experienced abuse, trauma, systemic oppression, and other hurts that make it challenging to trust ourselves, let alone anyone else. Western culture tells us to keep reaching for that external thing—a relationship, job, goal, body type, etc.— that will complete us and mask our inner turmoil. For some of us, that pursuit works for a while, and for others, something shifts and we wake up from the relentless race for external validation.
That something shifted for me after I experienced a traumatic event in my early adulthood. I was fortunate enough to get connected with a counselor that helped me process not only the immediate traumatic event, but all the pain that it brought up underneath. Ever so slowly, I learned to share deep hurts that I had kept hidden away, but that touched every part of my life. As we built trust, I shared more and more vulnerably, each time bracing myself for a slap in the face. And each time, I felt surprised and relieved to be met with compassion and a reflection of my worth.
I intuitively learned then, what research and clinical work told me later: that new, positive experiences within an emotionally-engaged, trustworthy, understanding, and compassionate relationship can enact change and healing all the way down to the neural connections in our brains. The experience felt so profound that I decided to leave my tech job and go to graduate school for a Masters in Clinical Mental Health Counseling. I wanted to move towards people who felt lost, confused, and hopeless like I did, and tell them there may be a way out. That we could find it together, just like my therapist and I had done.
In my graduate program and clinical work, I cultivated my interests and skills in culturally-affirming and responsive therapies, trauma-informed and body-focused modalities, and the integration of spirituality and psychotherapy. My personal identities as a mixed race Filipina and white American woman, trauma survivor, and person of faith (even if with some baggage) inform my commitment to people of all cultures and spiritual backgrounds. I believe that we all need spaces that respect us a whole, complete people, especially in therapy.
When I'm not working with clients or adding to my long list of psychotherapy books and trainings, I enjoy exploring my creative side and spending time with loved ones. My earliest healers were an electric guitar, pen & paper, and acrylic paint. Artistry and creativity can be powerful companions in the therapeutic process. I am happy to support you in incorporating creativity into our work together—whether you identify as an "artist" or "creative" or not! I live in Austin, TX with my partner, daughter, and dog. On our favorite days, we're either visiting the farmer's market, enjoying dinner with good company, or taking our pup out for adventures.
Therapeutic Approach
Therapy with me will feel incredibly warm, collaborative, and inviting. I work hard both personally and professionally to establish an environment where you feel safe enough to explore and share your inner feelings, fears, joys, and needs. I take an integrative and holistic approach, paying close attention to your past, present, and future; your mind, body, and soul; your areas of strength and resilience, as well as your pain and challenges. There is no one way of doing therapy, and so together we'll find what works for you. My primary goal is to offer a space where you can reflect on and reclaim your story in order to more meaningfully connect with your true self, others, and the world. We humans tend to feel safest and most able to do this when we feel seen and accompanied through the intensity of our lives.
My integrative approach is informed by a few core counseling theories, including relational psychodynamic theories, attachment theory, interpersonal neurobiology, somatic (body-based) therapies, and experiential theory. My training in DEEP (Dynamic Enriched Experiential Psychotherapy), which is based on AEDP, helps me integrate these theories in a skilled and authentic way. I continue to develop my work within this modality through ongoing individual and weekly supervision led by Candyce Ossefort-Russell, LPC-S.
Additionally, I identify as a justice-oriented therapist who is culturally-affirming and responsive to the way society and culture positively and negatively impact your experience. I regularly consult with and seek out community with fellow justice-oriented therapists so that I can continue to provide a safe space for the fullness of who you are. My aim is to decrease feelings of inner shame and blame while empowering you to live into your strengths and resiliencies.
Common Themes My Clients Bring to Therapy
While you may resonate with one or more of the themes below, this list is by no means exhaustive. I encourage you to reach out to me for a free 20-minute phone consultation if you're interested in exploring another theme or presenting concern in our work together:
Depression, anxiety, loneliness
Life transitions (e.g., career, family, move)
Managing stress
Personal Identity, including racial and cultural identity
Grief and loss, including losses unrelated to death
Trauma, including racial trauma
Childhood history of abuse/neglect
Spirituality and religious concerns, including existential concerns
Self-exploration and reconnecting with inner creativity and wisdom
Self-esteem and confidence
Family and peer relationships
Work and career issues
Racial and cultural issues
Physical health and wellness, including managing chronic illness
Credentials
I am a Licensed Professional Counselor Intern (#82790) supervised by Candyce Ossefort-Russell, LPC-S and work as a therapist at DEEP Center Counseling.
Education and Cultural Specialization
I received my MA in Clinical Mental Health Counseling from the Seminary of the Southwest (CACREP) with a specialization in adapting counseling theories for the needs of Latinx clients and other marginalized populations.
Spiritual Integration
My graduate training included over 12 hours of coursework in the integration of spirituality and psychotherapy, including counseling for those who identify as spiritual but not religious.
Advanced Training
I had the honor of taking a year-long intensive course in DEEP (Dynamic Experiential Enriched Psychotherapy), based on AEDP, that blends attachment, experiential, somatic (body-based), and emotion-focused theories that are supported by the latest research in neuroscience. I continue to develop my skills in this rich, integrative theoretical model through ongoing individual and group supervision led by Candyce Ossefort-Russell, LPC-S.
Clinical Experience
DEEP Center Counseling, 2019-present
YWCA, 2017-2018