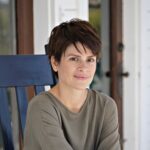 Erin Franklin, MA, LPC
Therapy for Individual Adults and Couples
We live in a culture that tells us to be more independent, or to "pull ourselves up by the 'ol bootstraps" when we're having a hard time. But it's not possible to self-care our way into happiness and bliss. Humans are born with a social brain that is hardwired for connection. Simply put – we need each other to survive, and to thrive.
As a therapist, I am fascinated by the ways in which people are both formed and transformed through their relationships, and I am passionate about helping individuals and couples experience greater connection and better relationships with themselves, and with each other. Whether you've been badly wounded in a relationship, dream of having a healthy and fulfilling partnership, feel "stuck" in your current relationship, or want to love and accept yourself more deeply, I can help.
Personal growth does not happen in isolation. With the help of an authentic, actively engaged, attuned, and caring therapist, profound healing and positive change are absolutely possible. Together, we will empower you to create the life and relationships you desire, and deserve.
About Me
Therapy is the deep and meaningful work I feel called to do.
I consider it the highest honor to help individuals and couples experience more fulfillment, fun, meaning, and connection in the relationships they have with themselves, and with each other. It is a gift for me to participate in a process that allows people to meet their true selves for the first time, or to mend painful old wounds through more emotionally secure relationships.
I may bring education, practice, and specialized training into a session, but I believe it is ultimately through the exchange of authentic, present, empathic, caring connection within a safe relationship whereby we can experience the greatest transformation – and become our best selves. Backed by the latest research in attachment theory and interpersonal neurobiology, this deeply held core belief is the basis for my therapeutic work.
Not only do I strive to create positive, healing partnerships with my clients, I also apply this philosophy to my personal life. My close relationships serve as both the foundation and the inspiration for my therapeutic approach. I am dedicated to ongoing personal growth and evolution that will help me to become a better daughter, friend, and fiancé to the people who have shaped, shown up for, and supported me the most.
My Therapeutic Approach
Because I believe in the healing power of relationships, I show up in each session as a real person available for genuine connection. I will meet you with unwavering support, warmth, compassion, curiosity, caring, and respect, as well as a sense of humor. Within this safe space, our work together will be organic and aligned with your therapeutic goals. It will be active, creative, collaborative, strengths-based, and always at your own pace whether you want to "just be" or "dig deep." We'll go beyond basic talk therapy by using a modern, more holistic approach that emphasizes both the inherent wisdom of your mind, body, and heart.
There are many reasons to seek therapy with me including identity exploration, emotional processing, deepening connection, meaning and life purpose, self-confidence, authentic relating, vulnerability, unlocking potential, and spirituality.