Who is Candyce?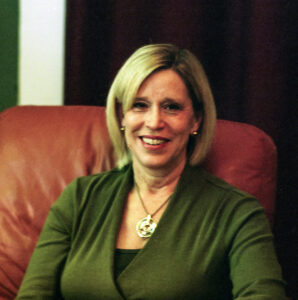 I am a clinician, supervisor, trainer, and writer. And I am someone who has made my way through darkness and come out on the other side.
That means the professional knowledge I bring to you is guided by both rigorous study and real life experience. Because when your teacher has both? Your whole self gets to learn.
When I was 30 years old, everything suddenly fell apart. One minute I was a new mom creating a nest with my husband and my baby boy. The next minute I was a widowed single parent, suddenly nesting instead in my therapist's office. Crawling through darkness and making my way through unexpected and devastating tragedy.
During those years of grief and growth, I was lucky: I found a therapist who was unafraid to walk through the darkness with me. All the way. Without trying to fix me or take my pain away. No matter how long it took. No matter how hard it was. So my pain had time to invite me to grow. To eventually transform my life.
During my years of grief and growth, I also learned that my therapy experience was unique. American culture doesn't like pain. Doesn't like death. Doesn't like healing that takes time. Lots and lots of people in lots and lots of situations wanted me to "get over it," to "look for the silver lining," to essentially stop hurting so much and get back to my old self.
And believe me, there's a ton of therapy out there that subscribes to this pathologizing "fix-it-quick-and-avoid-the-darkness" attitude.
If my therapist and I had listened to that attitude, and had tried to prod me to fix my pain and get back to being my old self, I wouldn't have had the opportunity to transform into who I am now, years later.
Who I am now is someone who knows first-hand that fearless therapy can help a life crack open and shine. I am someone who is intensely determined to make sure that there is more great therapy in the world, so that all people who hurt can have a companion to accompany them on their dark and rocky paths toward growth. Without being pathologized or asked to skip over their pain. I am someone who has taken all that I learned from my own travels through therapy, and used it to fuel my enthusiasm for mental, emotional, and spiritual health.
I'm so passionate about good therapy and therefore about good therapist training that I continually strive to expand and sharpen my skills—personally and professionally. That means you'll always get my newest, my most trusted, and my best.
I have actively and intentionally lived and studied psychological and spiritual perspectives of suffering and transformation for more than 20 years. I have decades of study and practice under my belt, along with life experience and years of my own therapy. Meaning that as a trainer I can clearly explain the underpinnings and in-depth applications of the theories I'm teaching, even as I model acceptance, warmth, compassion, fearlessness, challenge, and engagement with you as I teach.
I read, attend workshops, teach courses, lead study groups, give presentations, write, and participate in my own personal growth on a regular basis. I'm a geek about this stuff. I explore everything from time-honored wisdom traditions to the latest and greatest neuroscience research, distilling and applying the information so I can deliver the best to you.
Specifically, I continually broaden my understanding of all aspects of attachment-based, experiential, emotion-focused, depth-oriented, and body-based therapies by studying:
depth psychology,
interpersonal neurobiology,
attachment theory,
mind/body/spirit integration,
spiritual issues (with a particular focus on dark night of the soul experiences and mindfulness practices),
bereavement issues,
group therapy practices,
leadership and educational practices,
existential perspectives, and
writing and poetry.
(All this love of darkness and geekiness, yet ya know what? I'm also a regular person with a great sense of humor, a family life, and a love of food, swimming in cold water, and Elliptigo-riding!)
A few other things you should know about the expertise I bring to my teaching:
I immerse myself in ongoing, in-depth post-graduate training in the most effective and up-to-date ways of doing therapy. Among the many post-graduate courses I've taken, these three are particularly relevant:
Accelerated Experiential Dynamic Psychotherapy (AEDP). It's a way of doing therapy that's rooted in attachment theory, neurobiology, emotion theory, and developmental studies. AEDP focuses on helping people to heal and grow, rather than on labeling what is sick or broken. The work is based on creating new experiences in the room (rather than just talking about stuff), within the context of a warm and engaged therapeutic relationship, explicitly helping with emotions, and focusing on the innate human potential to thrive, heal, and grow. I studied with the AEDP Institute's founder, Diana Fosha, PhD, for more than five years, and in 2007 I became the third person in the world to be certified in AEDP. I was invited to serve as a faculty member for the national AEDP Institute in 2008, which I chose to do for 3 years.

Sensorimotor Psychotherapy

. It's a way of doing therapy, developed by Pat Ogden, PhD, that integrates verbal techniques with body-centered interventions in the treatment of trauma, attachment, and developmental issues, incorporating theory and technique from psychodynamic psychotherapy, cognitive-behavioral therapy, neuroscience, and theories of attachment and dissociation. I completed Level 1 of SP training in 2009.
Developmental Somatic Psychotherapy. It's a relational and movement-oriented psychotherapy within a contemporary gestalt therapy framework, developed by Ruella Frank, PhD. Inspired by the work of developmental psychologists, motor theorists, and somatic educators, DSP is a template for understanding and working with early psycho-physical blocks as they emerge in present moments of the adult therapy session. Attending to movement patterns within therapy is particularly powerful when guided by current developmental thinking. After completing an intensive two-year training course, I received a certificate in DSP in 2013.
During my tenure as faculty for the national AEDP Institute, I taught and gave presentations for the Institute in Austin and across the United States; and I studied and collaborated with AEDP faculty members from all over the world.
I have collaborated and presented with Stephen Porges, and have attended multiple study groups with Allan Schore
I hold an M.A. in Counseling Psychology, with an emphasis in Depth Psychology, from Pacifica Graduate Institute, Carpinteria, California. (Depth psychology is non-pathologizing and strength-affirming, acknowledging and working with the rich unconscious and transpersonal aspects of human experience.)
I wrote my master's thesis, Shimmering in the Darkness: Bearing Witness to Inconsolable Suffering, about the growth and transformation that can occur when we can help people's grief to take its natural yet anguishing course, and how necessary it is for us to offer grievers unflinching support and help in order for them to bear the painful feelings of mourning. I continue to write articles about grief, and I'm working on a book.
I'm a Licensed Professional Counselor and a supervisor for LPC-Interns (LPC-S), officially approved by the Texas State Board of Examiners of Professional Counselors, license #18127.
I've trained and worked with Hospice Austin, supporting dying patients and their families, and bereaved family members with home visits and phone support.
I earned a certificate in spiritual formation from the Seton Cove, an interfaith spirituality center. This certificate program teaches the integration of spiritual and emotional growth, various spiritual disciplines that support seeing through illusions and assumptions about life and that encourage an authentic life, and exploration of the idea that the inward life leads back to community. The content of this certificate supports my view that psychological and spiritual health are intertwined, and informs me in working with a wide range of spiritual perspectives and issues.
My years of extensive experience working and teaching from a depth-psychological, attachment-based, experiential perspective in the areas of trauma, grief, life transition, depression, and sensitivity has enabled me to deliver the highest level of support for my clients, as well as to provide effective training and study for experienced and new therapists, and counseling interns.
Every single day, I'm humbled, honored, and profoundly moved by having the opportunity to help therapists accompany all kinds of people through pain and change, all while fostering growth, healing, and authentic self-understanding.
Truth be told, these qualifications are all fine and dandy, but the bottom line is that I'm constantly striving to provide a safe and inviting atmosphere for your learning. I'm open, non-defensive, and emotionally-engaged, and I welcome your curiosity, questions, experience, and appetite for growth.
I believe that good teaching is:
warm,
authentic,
attuned to you and your needs in the moment.
I believe that good teaching invites you to be all of who you are as a therapist so that you can bring all of who you are to your clients.
Because when we come together as our truest, most connected selves? We're able to grow and develop better than ever before, sculpting our true selves to help our clients from that beautiful place of authenticity, security, and confidence.
The most beautiful people are those who have known defeat, known suffering, known struggle, known loss, and have found their way out of the depths. These persons have an appreciation, a sensitivity, and an understanding of life that fills them with compassion, gentleness, and a deep loving concern.                — Elisabeth Kübler-Ross
---